Living a life that is physically and emotionally balanced is vital.  We can do this by taking a few small steps to get there.   Young Living essential oils help bring more focus and harmony to our daily activities and challenges.
Making one or two changes will begin to make a huge difference in your life.  Here are a few easy tips for topical and aromatic oils:
Place a drop of oil on your palm, and rub your hands together, then take four deep breaths while cupping your hands around your nose for immediate clarity and relaxation.
Apply oils to your pulse points including your wrists, temples and rubbing on the nape of the neck to relax muscles and nerves.
Diffuse essential oils every day in your home, office and car to create a beautiful ambiance.
Put a few drops of Young Living's Abundance or Thieves essential oil blend on the bottoms of feet for immunity support and more.
1. Jump Start your day with a positive perspective!
Feeling more inspired, generous and positive, can totally change your whole day.  Start when you wake up!
My favorite way is to start with Young Living's Awaken essential oil blend.  Awaken will enhance inner self-awareness to help you become aware of your limitless potential and a first step toward making positive life changes.  I put a drop or two in the palm of my hands, rub them together and then rub the back of my neck and forehead and breathe in the aroma and take a moment for prayer and meditation.
2. When you can't change a challenging situation, redirect your energy!
We all have things in our life we have no control over, and instead of obsessing about them, begin to shift your energy in another direction.  By consciously acknowledging and releasing your feelings, you will free up your energy to feel stronger and calmer.  Young Living's Surrender essential oil blend will help with this.  This blend provides the aromas to help cast off inhibitions that may be controlling your life and limiting your potential and beliefs.  Many people have found it also releases the stress and tension one can have with a controlling attitude.  Diffuse or apply on the forehead, solar plexus, and heart area to help you shift the energy.
3. Feeling on edge or irritable?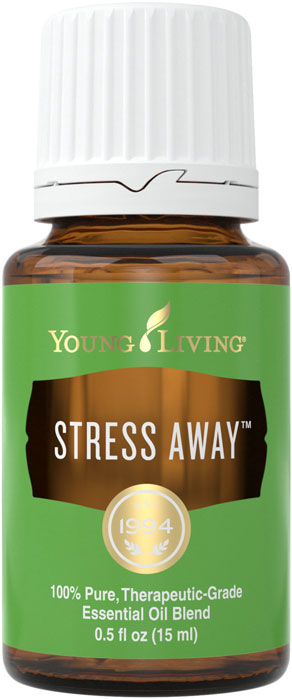 If you are feeling frustrated or having a day when nothing seems to go right, take a minute to oil up and refocus your energy.  Young Living's Stress Away essential oil blend is the most popular way to shift your mood and take the edge off.
Most people find it to be immediately relaxing and comforting.
---
Watch for our newsletters and see my blog for MORE tips on other exciting new products!
If you have questions or would like guidance please give me a call and we can set up a time to discuss your personal goals and concerns.
My joy and passion is helping others look and feel great naturally and have worked exclusively with Aromatherapy and Essential Oils for over twenty years. If you are interested more wellness in your life, or in creating another income stream sharing with others, I am happy to assist you with that!
If you have any questions, please call me at 505-250-3089 until 8pm EST for assistance or you can email me as well, Click Here.
ORDER NOW the Young Living Essential Oils!
New Customers, Click Here to Sign-up | Existing Customers, Click Here to Login